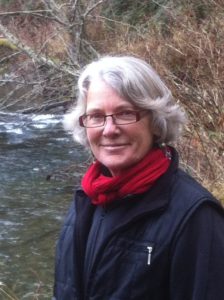 Working as an art educator in the public school system in Winnipeg, Manitoba I developed a fascination with clay and began exploring a variety of wheel throwing techniques as well as firing processes. One of my favourite methods of firing came to be raku. Since moving to Vancouver Island I have the opportunity to be fully engaged exploring this technique.
Due to interests such as kayaking, hiking and sailing the coastal waters of British Columbia my exploration of the natural world continuously enriches the inspiration of my work.
Raku firing takes place outdoors in a portable kiln where one to two pieces are fired at a time so as to take the necessary care for each piece according to the glazing requirements. This method of firing and the subsequent exposure of the clay to extreme temperature changes, a reduction atmosphere (reduced oxygen) and using different combustible materials evolve into a very intuitive process prone to desirable and undesirable effects. The immediacy of this process creates surprises in numerous ways resulting in unique and distinct pieces providing a great deal of satisfaction not only to the artist but hopefully to an appreciative audience/collector as well.